How it Works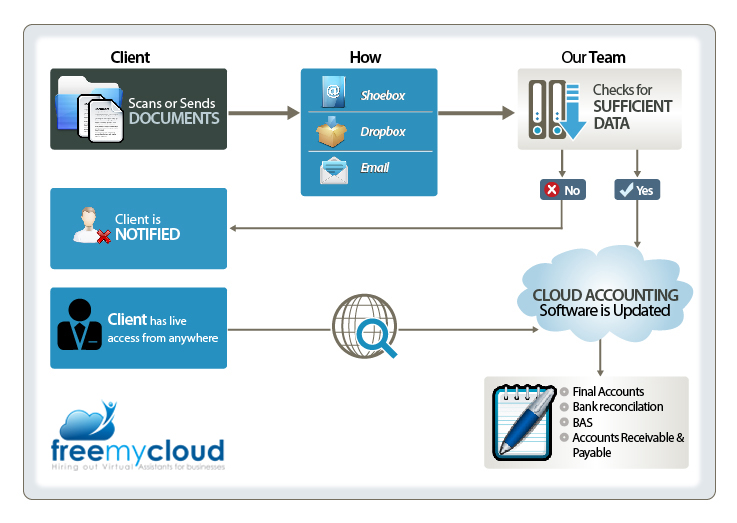 FAQ's – Outsourcing Bookkeeping and Accounting to the Philippines. Most of Australia's top accounting firms and bookkeeping companies already outsource their back office tasks to the Philippines – but charge you normal Australian rates! It's a well kept industry secret. Here is a list of FAQ's which may help you decide if you think moving some back office tasks to Manila is a good idea.
1. How will I transition my bookkeeping to an offshore staff and how long will the transition take?
Before the project starts we will be requesting access on your accounting software for us to study how you have been doing your bookkeeping in the past. With this initial idea the phone discussion will be much simpler since we already know what we are dealing with. Based on experience it will only take 2-3 hours phone call for us to understand your process flow. After which we will email you an initial report that summarizes the phone conversation so that it is clear to both parties the function being transitioned.
2. What about my paper receipts, how will I give it to the offshore staff?
We highly recommend using or transitioning to online accounting software. (MYOB, Quickbooks, SASSU, Xero etc). We can then set up bank feeds to make recording your transactions so much easier! For your paper receipts you can scan it and send it to us or you may use a third party provider wherein you can mail all your paper receipts and they will scan it for you then our offshore staff will be able to view it online then record it to your accounting system. For further information on this kindly call us at our hotline.
3. I have a start-up business, will you be able to help me set up my accounting system? Yes, we can definitely help you in establishing your accounting system from the ground up. We have experienced professional who have done this for many clients already.
4. What are the qualifications of the offshore bookkeepers / accountants? Our offshore staff are all from the Philippines, all of which are University graduates with a degree in Bachelor of Science in Accountancy which is a four year course. Some are Certified Public Accountants in the Philippines with years of experience in the corporate world.
5. Why should I choose to outsource my bookkeeping than hiring a local firm to do the job?
Cost benefit. It is cheaper to hire an outsourced staff to do your bookkeeping / accounting than getting someone locally. Generally you will save as much as 50% of the cost to hire a bookkeeper locally than outsourcing it. The output is of the same or even higher quality but cheaper which gives you more than what you are paying for.
6. Are my records safe with an offshore staff?
Yes it is. All FreeMyCloud accountants and bookkeepers have high regards with integrity and confidentiality. Also, we have a non-disclosure agreement in place duly signed by all our offshore staff. Our staff want your business to succeed as much as you do – it is a great opportunity for our staff to work with excellent Australian companies. They treat it very seriously.
7. How will I know if the offshore bookkeeper is preparing my books based on Australian standards? International Financial Reporting Standard (IFRS) is the only standard used globally except for the US which uses US GAAP. The same standard is used in all the Universities in the Philippines thus all accountancy graduates are knowledgeable of such standard.
8. Is your subscription plan flexible? Yes it is. There are no long term contracts or hidden clauses. We suggest you talk to our senior accountant who can estimate how much time is needed per month for your books. Our accountants can also give you advice on how to grow your business and set up your accounts and procedures. Click to Return to Main Bookkeeping and Accounting page.